MDX and RDX Owners Sue Acura Because Their Transmissions Keep Shifting into Neutral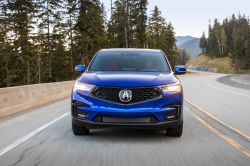 The 9-speed ZF transmission has numerous acceleration defects and can even throw itself into neutral if the throttle malfunctions while interpreting messages from various input modules.
The lawsuit points to TSB #PU-15-34 where Acura says a driver may not be able to select any other gears until the vehicle is restarted due to an open circuit in the actuator supply. Acura said a simple software update would fix the problem.
But according to the plaintiffs it didn't work.