These Acura Vehicles Have Dangerous Takata Airbag Inflators
Posted on

Author

Tagged
Key Points
The Takata airbag recall is the largest automotive recall in U.S. history with more than 100 million vehicles affected worldwide.
The inflators become unstable over time and can rupture / explode during an airbag deployment, shooting metal fragments into the cabin.
The problem is responsible for at least 27 deaths worldwide.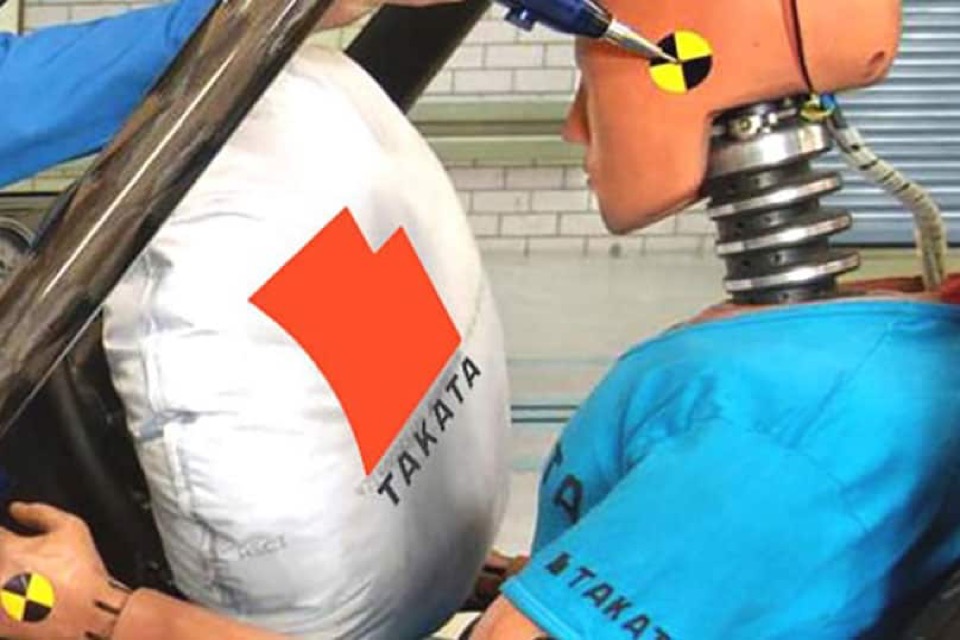 Takata's inflators use a chemical called ammonium nitrate to inflate the airbag during a crash. The ammonium nitrate can become unstable when exposed to temperature fluctuations or high humidity, causing the inflators to explode with an unexpected amount of force. How much force? Enough to rupture the metal canister during a deployment and spray sharp fragments out into the cabin during a crash.
Accornding to the National Highway Traffic Safety Administration (NHTSA), at least 15 drivers have been killed and 250 people injured by an exploding Takata inflator.
High Risk Vehicles ∞
Certain 2001-2003 Honda and Acura vehicles have been labeled as having a "high risk" of airbag inflator ruptures. In late June 2016, NHTSA urged owners of these cars to stop driving immediately.
With as high as a 50 percent chance of a dangerous airbag inflator rupture in a crash, these vehicles are unsafe and need to be repaired immediately," said U.S. Transportation Secretary Anthony Foxx. "Folks should not drive these vehicles unless they are going straight to a dealer to have them repaired immediately, free of charge.
| Make | Model | Years |
| --- | --- | --- |
| Acura | CL | 2003 |
| | TL | 2002-2003 |
| Honda | Accord | 2001-2002 |
| | Civic | 2001-2002 |
| | CR-V | 2002 |
| | Odyssey | 2002 |
| | Pilot | 2003 |
It's important to note: the vehicles in question have already been recalled between 2008 and 2011. According to NHTSA's data, however, only 70% received repairs. That leaves 313,000 vehicles that need critical repairs immediately. If you own one of the following cars:
Visit SaferCar.gov to check whether their vehicle has any outstanding safety recalls.
Call your nearest dealer and schedule a no-cost, immediate repair.
Full List of Acura Vehicles with Recalled Takata Inflators ∞
Given the scope of these recalls, NHTSA decided to spread out the recalls to get replacements to owners in the highest-risk regions or zones first. The last wave of inflator-related recalls is expected to begin in early 2020.
A zone is a group of states and territories where a vehicle was originally sold or registered at some point in time.
Zone A: Alabama, California, Florida, Georgia, Hawaii, Louisiana, Mississippi, South Carolina, Texas, Puerto Rico, American Samoa, Guam, the Northern Mariana Islands (Saipan) and the U.S. Virgin Islands.
Zone B: Arizona, Arkansas, Delaware, District of Columbia, Illinois, Indiana, Kansas, Kentucky, Maryland, Missouri, Nebraska, Nevada, New Jersey, New Mexico, North Carolina, Ohio, Oklahoma, Pennsylvania, Tennessee, Virginia and West Virginia.
Zone C: Alaska, Colorado, Connecticut, Idaho, Iowa, Maine, Massachusetts, Michigan, Minnesota, Montana, New Hampshire, New York, North Dakota, Oregon, Rhode Island, South Dakota, Utah, Vermont, Washington, Wisconsin and Wyoming.
| Make | Model | Years | Limited To |
| --- | --- | --- | --- |
| Acura | CL | 2003 | |
| | ILX | 2013-2016 | |
| | ILX Hybrid | 2013-2014 | |
| | MDX | 2003-2006 | Zone A, B |
| | | 2003-2004 | Zone C |
| | | 2005-2006 | |
| | RDX | 2007-2016 | |
| | RL | 2005-2012 | Zone A |
| | | 2005-2008, 2010 | Zone B |
| | | 2009 | Zone C |
| | | 2005-2012 | |
| | TL | 2002-2003; 2009-2014 | |
| | TSX | 2009-2013 | Zone A |
| | | 2010 | Zone B |
| | | 2012 | |
| | TSX Wagon | 2011-2013 | Zone A |
| | | 2011-2012 | |
| | ZDX | 2010-2013 | Zone A |
| | | 2010 | Zone B |
| | | 2010-2013 | |
Take Action ∞
Owners of these vehicles are urged to call the National Highway Traffic Safety Administration (NHTSA) safety hotline at 1-888-327-4236 or visit this site for more information. Consumers that are uncertain whether their vehicle is impacted by the Takata recalls, or any other recall, can contact their manufacturer's website to search, by their vehicle identification number (VIN) to confirm whether their individual vehicle has an open recall that needs to be addressed.
Generations Where This Problem Has Been Reported
This problem has popped up in the following Acura generations.

Most years within a generation share the same parts and manufacturing process. You can also expect them to share the same problems. So while it may not be a problem in every year yet, it's worth looking out for.
Further Reading
A timeline of stories related to this problem. We try to boil these stories down to the most important bits so you can quickly see where things stand. Interested in getting these stories in an email? Signup for free email alerts for your vehicle over at CarComplaints.com.
Over 2.4 million Honda and Acura vehicles are being recalled to replace the Takata non-azide driver-side inflators (NADI) found in certain 1997–2003 models.

NADI inflators are similar, but somehow even more dangerous to previously recalled Takata products. Both may explode on deployment due to excess moisture build-up, but non-azide inflators can also fail to fully inflate the airbags in a crash.

It's a worst-of-both worlds situation and you'll want to get them out of your vehicle as soon as possible. According to the recall that'll be sometime in March of 2020.

keep reading

article "Acura CL Part of Larger Recall to Replace Dangerous NADI Airbags"

A Puerto Rico man has sued Honda after being severely injured by an exploding Takata airbag.

According to the lawsuit, the plaintiff's Acura "lightly bumped" another car in front but the Takata frontal airbag allegedly exploded and sent shrapnel into his face, chest and neck, allegedly causing severe lacerations.

The 2002 TL is on the "high risk" list which has Honda representatives going door-to-door in some areas urging owners to get the necessary repairs. but it's possible they weren't doing this in Puerto Rico.

In this case, the plaintiff said he received five recall notices one month after the accident.

keep reading

article "Puerto Rico Man Sues Honda For Severe Injuries from a Takata Airbag Explosion"
OK, Now What?
Maybe you've experienced this problem. Maybe you're concerned you will soon. Whatever the reason, here's a handful of things you can do to make sure it gets the attention it deserves.
File Your Complaint

CarComplaints.com is a free site dedicated to uncovering problem trends and informing owners about potential issues with their cars. Major class action law firms use this data when researching cases.

Add a Complaint

Notify CAS

The Center for Auto Safety (CAS) is a pro-consumer organization that researches auto safety issues & often compels the US government to do the right thing through lobbying & lawsuits.

Notify The CAS

Report a Safety Concern

The National Highway Traffic Safety Administration (NHTSA) is the US agency with the authority to conduct vehicle defect investigations & force recalls. Their focus is on safety-related issues.

Report to NHTSA